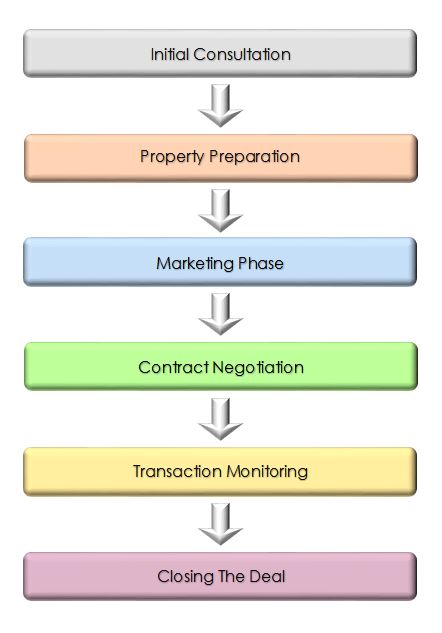 Selling a home is an extremely complex process. It can be broken down into several phases containing hundreds of important activities. Multiple tasks have to be successfully implemented and completed in an organized manner before the final goal can be achieved.
Our team approach will make it possible to manage all these aspects simultaneously and ensure a very smooth transaction. Several specialists that are great in their own fields will be working for you. Things will get done faster and better. We will coordinate all efforts, and for your convenience, you will only have to communicate with one agent. Let's take a look at the entire selling process step by step, exactly the way it will most likely happen when you decide to work with us.
Initial Consultation
The
listing initiation meeting
will be critical in developing the future relationship between you, the home owner and us, your adviser. We will clarify all steps involved in the home selling process, prepare you for different scenarios and set up the right expectations from the very beginning. Any questions or concerns you might have will be answered on the spot and the communication channel will be set up for any future inquiries. This is also the time when we will have to establish a fair asking price for your home and determine the future
pricing strategy
. One of the most apparent items that differentiate our service from the competition is the fact that you will receive in writing our
42-Step Marketing Plan
and
Cancellation Guarantee
. Finally, we will make some
recommendations
regarding your property preparation, potential improvements, showing procedures and selling incentives. We will also introduce you to pre-screened and previously tested professionals like interior designers, cleaners, contractors, movers or attorneys that might help you improve your experience during the sale. At that point, if you decide to work with us, we will move on to the next step.
Property Preparation
The initial tour of the property will reveal the items that should be addressed before any showings can begin. That might involve some minor or major adjustments on your part. But do not get alarmed. These are only our suggestions to help you increase your chances for the higher payout. You will decide which items are worth your special attention, if any. Most likely, your house will only need a thorough
cleanup
, a few
minor repairs
, some
clutter elimination
and little
decorating touches
here and there. Sometimes,
staging services
might be useful as they can transform your home into a more attractive and much more desirable property. For those who need and do not mind
major improvements
, we will run the cost versus value analysis. We want to make sure that you will not over-improve your property as you might not get your money back after the sale is completed.
Remember, the first impression is crucial. During the first few minutes that the potential buyers step up to your door and walk in to your home, they are most likely to fall in love with it or be turned off by its appearance. We have only one chance to do it right.
Marketing Phase
Marketing is by far the most important aspect in any sale-oriented business and that becomes even more evident when dealing with real estate. In fact, the most successful agents are those who are the best marketers. It is all about creating hype around the property, exposing it to as many potential buyers as possible and motivating these buyers to view the property and eventually make an offer. Here is a brief summary of our marketing efforts:
We will begin with property data collection to gather all important information about the house and neighborhood from all available sources.
The collected data used by a real estate copywriter to create an impressive property description.
Our professional announcer will produce a voice-over recording for use in different distribution channels.
Precise property dimensions will be taken and interactive floor plans will be created for all presentations.
Amazing HDR pictures will be taken by professional photographer that offers wide range of options like: Clear View, Virtually Staged pictures, Pole photos and Aerial photography.
A professional camera man will record a full motion video, so we can present your house in a unique and exciting way.
State of the art 3D virtual tour will walk viewers through your home as if they are attending an open house.
A domain name with your property address will be purchased and linked to your house's individual website with all interactive capabilities.
24-hour automated response system will include 800#, texting and QR code options to attract and identify drive-by buyers for your property.
Professionally designed luxury brochures will be designed and placed in your property to leave a long-lasting impression in the minds of potential buyers.
Hundreds of households in the vicinity of your home will be notified with just-listed postcards about your listing and eventually increase the inflow of potential buyers.
Through listing syndication and preferred on-line placement, we've partnered with hundreds of real estate sites to position your listing on the top of search engines and distribute the photos and video all over the web.
We will utilize Facebook, Google and other social media to bring more targeted Internet traffic to your property.
Our pre-MLS campaign will create some buzz around your listing among local Realtors and potential buyers even before the property is officially listed in the Multiple Listing Service.
All high-end luxury listings will be featured in global brands like The New York Times, The Wall Street Journal, Robb Report, Jetset Magazine, the International Herald Tribune and other sites throughout Asia, Europe, Australia, the Middle East, South America.
Contract Negotiation
I'm confident that our extreme marketing efforts will eventually produce an offer or sometimes even multiple offers. At that point, that is where my real estate experience comes into play. Having successfully negotiated several hundred transactions over the past 20 years, I have the right tools and knowledge to represent your best interest.
Yes, I will push the other side to agree on the
highest possible sale price
. Nevertheless, there is another side of the negotiation process that is usually overlooked by other agents. It's not only just about the dollar amount. Other
contract terms
, deadlines and contingencies, when neglected, could result in severe consequences. I will make sure that it does not happen to you. I will also investigate the
buyer's pre-approval
and ability to obtain the loan. Too many deals these days fall apart due to financial reasons and definitely we do not want to waste any precious time on unqualified parties.
Transaction Monitoring
Even though we might have a solid contract on our hands, there will still be a lot that can go wrong before we reach the closing table. Therefore, the whole transaction will be constantly monitored by us so that if any issues arise, they can be immediately addressed and resolved.
First of all, you will need
legal representation
through the transaction process and we will recommend some great real estate attorneys. If possible, we will try to pursue and secure
back-up offers
from other potential buyers. Just in case the current deal goes south. We will regularly check on the buyer's
loan approval progress
to ensure that the lender has the loan clear to close on time as originally specified in the contract terms. We will constantly
communicate
with all parties involved in the deal like agents, lenders, attorneys, inspectors, appraisers and title companies, and coordinate any actions that have to be taken to facilitate the deal.
Closing The Deal
As we move closer to the closing, it is often a stressful time for everybody, especially for the seller, who can feel like it is hard to remember and prepare for everything. We will be there to help you arrange for things like
village inspection
, buyer's
walk-through
,
transfer stamps
,
switching utilities
or
moving services
.
The average closing lasts for about 2 hours but it takes a lot of effort to pull all the pieces together and make it work. It is our job to make sure that everything is set and ready for the final hour. This is the moment that everybody was working towards. Nothing can be more rewarding for the seller than leaving the closing table with the peace of mind that everything has been done to secure the best possible outcome.
And that can be achieved only if you pick the right professional to represent you.