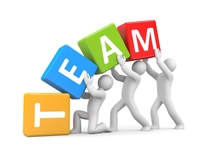 Selling a home is a complex process that involves performing multiple tasks, like: home preparation, marketing and promotion, prospecting, dealing with showing requests and telephone inquiries, following up and communicating with all parties, taking care of paperwork, negotiating the deal, transaction monitoring, and much more. In addition to that, all these various pieces depend on each other. To do it right, one has to make sure that nothing is skipped or neglected in the process as that might affect the overall success and put the outcome in jeopardy.
Single agent.
A single agent can only perform one function at a time. On the top of it, agents who run a one-man show have to concentrate on other activities that are even more time consuming, that is: finding new business, generating leads, working with buyers, showing other properties, etc. So don't be fooled into thinking that if you list with an agent that works alone you'll get more attention. Quite opposite might happen. It is obvious that sooner or later, rather than serving current clients, such an agent will have to let things fall through the cracks. And that's going to affect you, the home seller.
Team work.
On the other side of the spectrum there are teams of real estate consultants that can professionally manage all the aspects simultaneously and ensure a smooth transaction. The team advantage pays off as you get several specialists working for you that are great in their own fields. Things can get done faster, better and you get the top quality service. Make sure though that you will only have to communicate with one agent or team leader and that you can get their full and undivided attention.
There is no question that the team approach offers more advantages to the seller than a single agent service. But like with any other business, you have to pick the right individual or a group that will give you not only the personalized attention you deserve but also the outstanding results.